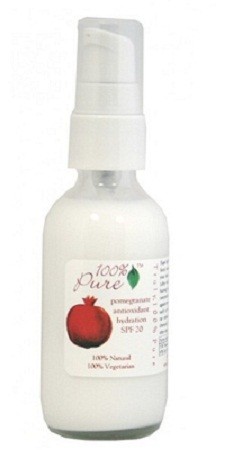 Guest Post by Jeanett Park
Maybe it's just me, but I find it very hard to find a decent natural and cruelty-free day moisturizer with a high SPF these days. Ever since my switch to ensure bunnies (and mice, and dogs, and cats, and monkeys..) are safe, the hunt has started to wear me down with disappointment after disappointment. They're either too goopy, too watery, leave white stuff, or stink (literally stink – I'm talking about smelling like something the cat dragged in). My other requirement? It has to have some sort of fruit in it. See, I'm big into using stuff with food or plants, and everything I tried had neither. Bleh.
I discovered 100% Pure Antioxidant Pomegranate Moisturizer with SPF 20 and noticed 100% Pure differed from other natural companies because they not only love our furry pals, but have a myriad of fruity moisturizers to try! I spotted their pomegranate one with SPF 20 and felt like I hit the jackpot. On paper, it satisfies all my concerns – will it work as good as I hope?
After receiving the bottle, I hurried to wash my face (yes, at 4pm – don't judge) and pumped it on my finger. Sometimes the lotion's a little too eager to get out, and it may shoot out past your hand so pump slowly, aiming down. The moisturizer is milky white and creamy, and it absorbed into my skin with very little trouble. It has a super light scent so it won't assault your nose (or anyone else's). One pump took care of my entire face and another pump or two satisfied my neck and décolletage.
This lightweight lotion feels great after application – leaves your skin with increased softness and not feeling greasy, and it's very gentle. I had my mother-in-law with sensitive skin try it and she too loved how it felt. I used some foundation as a final test, and it just glided right on top. This moisturizer doesn't affect the color or feel of my makeup at all. Of course, you'll want the lotion to fully dry first.
So, did I really hit the jackpot? You bet – so go pick yourself up a bottle already!
100% Pure Antioxidant Pomegranate Moisturizer with SPF 20 uses titanium dioxide (15%) and zinc oxide (10%) for sun protection and antioxidants further shield your skin from pollutants and the harsh environment. The ingredients list is friendly and non-threatening as well.
Highly recommended!
Jeanett Park is a natural beauty writer and editor of GardenofBeauty.net, an unconventional green beauty blog. An advocate for organic, natural and cruelty-free beauty products, Jean also sustains an eco-friendly lifestyle and spends her free time dabbling in aromatherapy as well as actively converting family and friends into going green.
My Beauty Bunny does not accept compensation for any product reviews; Press samples have been provided for this purpose. Opinions are the author's own. Article may contain affiliate links.