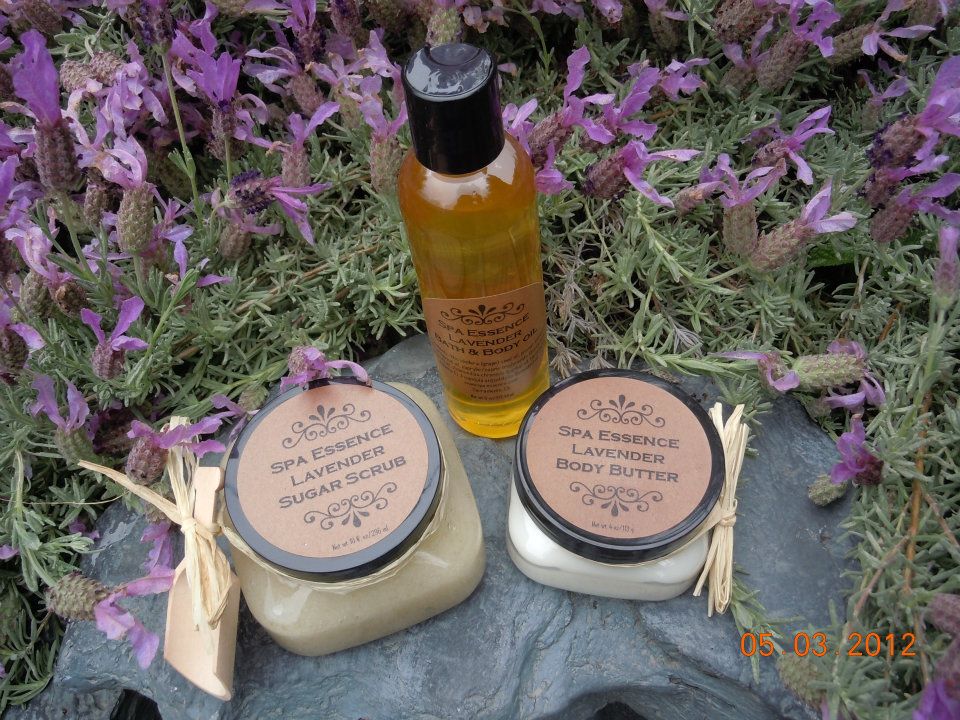 Products:  8 oz. bottle of Spa Essence Lavender Body Oil, 10 oz. jar of Spa Essence Lavender Sugar Scrub with a wooden scoop, and a 4 oz. jar of Spa Essence Lavender Body Butter with a birchwood spatula 
Their pitch:
"Spa Essence Natural Body and Skin Care, located in Sacramento, CA, features quality, artisan crafted natural body and skin care luxuries that are made fresh in small batches and meticulously formulated with plant-based ingredients that are pure, simple and natural to nourish, hydrate, heal, protect and renew the skin. The pure essential oils ~ used to scent our products ~ delight the senses, soothe the mind & inspire the spirit.  Our products are good for both you and the environment.

Spa Essence products are made in the USA, are not tested on animals (only willing humans), are free of parabens, petro-chemicals, phthalates, formaldehyde, artificial colorants, synthetic fragrances, alcohol, water and fillers."
My thoughts:  Bath products? Love 'em. Essential oils? Love those too. Cruelty free? SOLD! My favorite product of this little trio is by far! the Lavender Body Oil. I've been using the body oil for the last month or so after my showers (while my skin is still wet) on my arms, legs, shoulders, back, stomach, feet, wherever I can reach! I'll then air-dry a bit (apply some leave-in conditioner, apply my face moisturizer, comb my hair, whatever!) and then towel dry! My skin takes to the oil very well and I'm never left with that yucky, sticky residue. And it leaves my skin smelling so good and fresh. Talk about relaxing!
If I feel like my skin needs some extra moisture, I'll use the Lavender Body Butter. This body butter is not like most body butters. It is a solid! So you have to use the spatula to scrape the proper amount off. Just like with all of the Spa Essence products, a little bit of this goes a long way! I like it on days after my skin has endured some serious weather abuse. I generally only use it on my shins, calves, and arms. I've felt it to be too heavy for any where else. It also leaves a slight residue, no matter how much I decrease the amount I use.
Lastly, the Lavender Sugar Scrub. I love to use this product the day of or the day before I shave. It's a lovely exfoliant with, again, that lovely Lavender spa scent. I suggest using this product while taking a bath! The scrub takes a bit of water to be able to exfoliate smoothly, and it's much easier to apply in the bath. Because this product is so pure and potent, remember to exfoliate gently! You're not trying to scrub your skin off! I recommend using the palm of your hand to apply this product; any other bath accessory was too harsh.
All of these products are available in different fragrances, also! They have lavender, citrus, eucalyptus, and lemongrass, all of which come from essential oils, NOT artificial fragrances. Overall, the Body Oil is a definite must-have to any at-home spa kit! To check out more products from Spa-Essence just click here to visit their online store! Be sure to check them out on Facebook as well and leave any love or questions for them.
My Beauty Bunny does not accept compensation for any product reviews; Press samples have been provided for this purpose. Opinions are the author's own. Article may contain affiliate links.