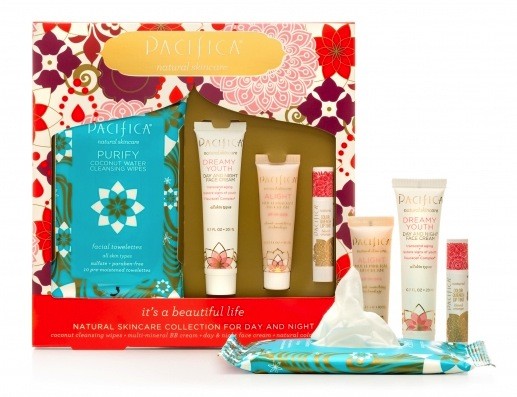 Originally founded in Oregon, Pacifica Perfume was just just that for a long time – perfume. Over the years, their range expanded to include home scents, skin care, and cosmetics – and can now be found in the aisles of your local Target!
The original focus of fragrance is still at the heart of their line and products have natural and delicious scents. Pacifica provided the It's a Beautiful Life Natural Skincare Collection for review. Having grown up in the Pacific NorthWest, I've been familiar with Pacifica for over a decade. I was excited to try new products after having seen the evolution of the brand.
The It's a Beautiful Life Natural Skincare Collection has all the beauty basics that you need – Dreamy Youth Day and Night Face Cream, Alight Multi-Mineral BB Cream, Color Quench Lip Tint, and Purify Coconut Water Cleansing Wipes to take it all off at the end of the day. All items in this kit are travel sized and will fit perfectly in your purse, or in your carry-on luggage.
Finding a good day and night cream combination is hard. Finding one in a travel size is even harder. The Dreamy Youth Day and Night Face Cream smells delicious! It's mix of sweet iris leaf cell extract and demascus rose leaf cell extract are not only great for your skin, but also an amazing scent combination. It's lightly floral and not overpowering.
The cream goes on smoothly, isn't too thin or too thick, and absorbs quickly without feeling greasy. Containing sunflower seed oil, kelp extract, and coconut water, this skin cream is an antioxidant powerhouse. My skins tone and texture visibly improved while using it.
When it comes to BB Creams, people have a variety of preference. For some, the lighter the formula the better. Others want it to be like all of their favorites (primer, SPF, and foundation) rolled into one with just as much coverage. The Alight Multi-Mineral BB Cream is the perfect balance of the two. It's moisturizing, provides coverage, and has great skin care benefits. It's perfect for "no makeup" looks. Containing jojoba esters, sweet iris and damascus rose leaf cell extracts, coconut water, and kelp extract this BB Cream really is good for your skin too!
Love moisturizing lip balm but also craving a touch of color? The Color Quench Lip Tint gives a "your lips but better" look. Available in five shades, the shade packaged in this kit is Blood Orange. It smells delicious and gives a subtle deep coral tint to your lips. The lip tints moisturize with an effective mix of avocado and coconut oils. They go on very smooth and your lips instantly feel hydrated.
The Purify Coconut Water Cleaning Wipes are gentle but effective at removing makeup. Coconut water acts as a natural toner and skin balancer, papaya extract is an non-abrasive exfoliant, and aloe vera is both soothing and a natural anti-bacterial. These wipes will remove even stubborn makeup and make your skin feel smooth and soft.
All Pacifica Perfume products are completely cruelty free and vegan. The skin care and beauty products are also all free of parabens, sulfates, mineral oil, FD&C color, petroleum, and phthalates. The brand also strives to be eco-friendly and uses as many natural ingredients as possible. Most product packaging is recyclable as well.
Overall, I am very impressed with the It's a Beautiful Life kit from Pacifica Perfume. After trying these products, I have to say that I would purchase all of them again and would love to try more of their products.
Find this set at Target stores or PacificaPerfume.com.

Tashina Combs is the creator and editor of Logical Harmony, a vegan beauty and lifestyle blog. Logical Harmony features product reviews, the latest news on cruelty free living, recipes, fitness tips, and more. All items featured are free of animal testing and free of animal ingredients. You can keep up-to-date with Tashina on Twitter, Facebook, Instagram, and Google+.
Press samples have been provided for review. Opinions are the author's own. Article may contain affiliate links.