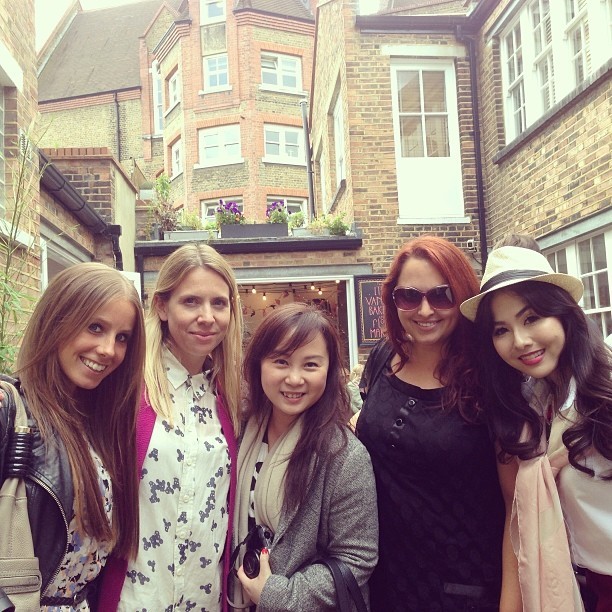 So, I'm back from my ACTION-PACKED London trip! It was only 5 days, but the great people at Boots No 7 packed so much into those 5 days, that I felt like I was there for 2 weeks! Even though I packed in a lot of fun stuff, I was very sad to leave, and I hope to go back soon.
We stayed at the gorgeous Boundary Hotel in Shoreditch. I was so happy to meet the other "Fabulous 7″ bloggers from around the world. They are a stylish and fun bunch!
Lisa – Sweden – Chic Magazine – Lisa Strannesten is the Fabulous 7 Ambassador representing the Swedish No7 community. She lives in Gotland (an island 40 minutes outside of Stockholm) but regularly jets out to Dubai and Ibiza. Lisa is a fashion editor and stylist, and describes her style as 'Scandinavian minimalist with a hippie heart'. In her bag you'll always find BB cream, a red lipstick and black liner.
Line – Norway – Lili's Beauty – Line Kirkhus is the Ambassador representing the No7 community in Norway. Line currently lives in Oslo, but is originally from Stavanger on the west coast of Norway.. From an early age Line knew that she wanted to work in fashion – having studied at the London College of Fashion, she now acts as the Fashion Editor for a large Norwegian newspaper and co-writes a blog, LilisFashion, with her best friend and fellow stylist, Line Langmo. Line describes her style as being 'Casual Chic', and likes to dress comfortably but with a little twist.
Debbie – The Netherlands – Beauty Scene – Debbie Zwiers is the Ambassador for the No7 community in the Netherlands. She's been a beauty blogger since 2008 and is the founder of Beautyscene; she balances this with her other job of being mum to her two children, Bo and Sem. Debbie loves to make sure that she's always on trend and says that part of her signature look is bright nails!
Mona – Dubai – Huda Beauty – Mona Kattan and her sister, Huda, are award winning beauty bloggers and salon owners in Dubai. Huda Beauty was founded to help teach women everywhere how to enhance and embrace their natural beauty with easy steps, product reviews, and tutorials. HudaBeauty.com has been viewed in over 100 countries worldwide and continues to influence women everywhere on easy ways to not only boost their beauty, but also their confidence!
Meling – Hong Kong – HK Cosme – Meling Lam is the Ambassador representing the No7 community in Hong Kong. She lives in the Northern Territories area of Hong Kong with her husband and mother-in-law, and is the beauty blogger behind hkcosme.com. Meling sees herself as a chic, casual person and considers her mineral face mist, powder foundation, lip balm and hand cream to be her handbag essentials.
Erk Erk – Thailand – Erk-Erk.com – Peeraya Pom-a-sa (also known as Erk-Erk which is the sound of laughter in Thai) is the Ambassador representing the No7 community in Thailand. Erk-Erk was awarded the 'Thailand Blogger of the Year' award in 2012, and blogs about her two main passions; shopping and beauty. She can always be found snapping away using her smart phone and uploading her latest finds onto her blog, erk-erk.com.
We all shared our beauty secrets (click here for mine). You can view all the beauty secrets here.
We visited some fantastic restaurants (who says the Brits can't cook? – all lies I tell you!), did tons of shopping, visited the Boots factory in Nottingham (where I discovered that a hair net and safety glasses is not the best look for me), did skin testing – the same testing they perform on volunteers (okay fine – I'll start wearing sunscreen!), visited the Victoria & Albert Museum and took a bespoke tour of beauty through the ages, got glammed up by Boots makeup artists, went to the top of the tallest building in the UK (the Heron building), did "laughter yoga" and had high tea at Brown's.
I have been using the Boots No 7 Lift & Illuminate Day and Night Serums for a couple of weeks now, and I am SO impressed! I try a lot of products, and they are not all awesome – trust me. I'm not blowing smoke up your bum. The man in charge of No 7′s R&D gave us a presentation that showed clinical results on volunteers who tested the serum. Even after that, I wasn't sure it would be that great, or that I would see results so soon (I had heard good things from friends and some of their celebrity fans, like Sharon Osbourne, but I had to see for myself before I bought in to the hype).
Well, I have! The serums (especially the night serum) have exfoliated my skin, revealing happier, brighter skin underneath! With time, they will also help with reducing more of the hyperpigmentation (dark spots) and acne scars, as well as preventing future spots and fine lines. It's supposed to take 4-6 weeks to see results and I'm already seeing results after 2 weeks! Crazy!
Boots launched these products in the US this month. In Los Angeles, you can find it at the flagship Walgreens store on Sunset and Vine. It's coming soon to other Walgreens stores and Target stores.
Boots No 7 does not sell in China (other than Hong Kong). They do not test on animals or commission tests on ingredients. Here is their formal statement on Boots' animal testing policy:
The issue of animal testing on products and raw materials is one we take very seriously at Boots UK and you can rest assured that we apply our policy rigorously.

For over 20 years our policy for cosmetics and toiletries has been that we do not carry out, or ask our suppliers to carry out on our behalf, animal testing on either ingredients or finished products.  In addition we can attest to being fully in compliance with all EU Directives, since their introduction and latterly the Regulation, governing animal testing including that of ingredients. In Boots we govern raw materials used in our products in regards to animal testing with utmost diligence through our close technical relationships with our suppliers.

We would like to see an end to all animal testing, and we fully support the development of the ban on further animal testing on ingredients within the most recent 2013 EU Cosmetic Regulation. We also give financial and technical support to the development and introduction of alternative forms of safety testing. We've worked with the charity FRAME (http://www.frame.org.uk/)  over the past two decades to help bring about the development of alternatives to animal testing.

Making sure that all your favourite Boots brand products are produced with the same commitment to the Boots brand values that our customers love and expect is so important to us.  As well as animal testing policies, our scientists take into account many other  factors when developing our products including environmental sustainability, health and safety, as well as making sure the product works brilliantly and is good value for money. Only then, are our products tested in our evaluation suite on a group of over 3,000 volunteers who are involved in trying out all our latest products before they make it to our stores.

Boots does not sell any skincare, cosmetics, toiletries or healthcare products in China.

For more information on all aspects of our Corporate Social Responsibility policies please look here: http://www.boots.com/csr
My Beauty Bunny does not accept compensation for any product reviews; Press samples have been provided for this purpose. Opinions are the author's own. Article may contain affiliate links.