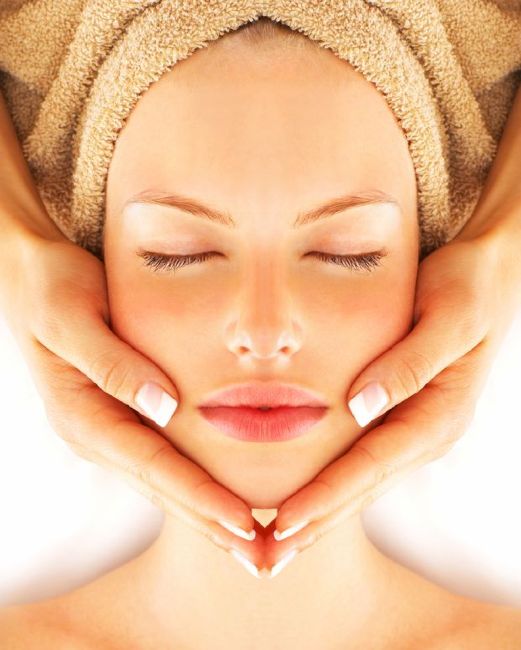 For the ultimate in luxury and pampering, you absolutely MUST try the Anti-Aging facial at Burke Williams. Their new H2V Youth Cell Activator uses plant stem cells to supercharge your skin's natural healing process.
I was SO impressed with the esthetician who did my facial. She was super sweet and made me feel so relaxed and at ease. At one point, I'm pretty sure I fell asleep! The facial was 75 minutes long and included cleansing, 2 peels, a mask, a head/shoulder/chest massage, extractions and plant stem cells (the Youth Cell Activator) applied via cool jets of air for maximum penetration.
After the treatment, I felt relaxed, and my sensitive skin was very happy, smooth and hydrated. I don't have any lines yet (acne is more my problem at the moment), so this is more of a preventative treatment for me. But, I did notice that my skin looked and felt amazing and it looked even better a couple days later.
This is not a cheap treatment, but the use of Burke Williams' steam rooms, jacuzzi and relaxation rooms makes the price see a lot more affordable. You can make a day of this with your BFFs or go it alone for a truly relaxing experience.
More about the new H2V Youth Cell Activator:
Youth Cell Activator is the newest product in the Burke Williams H2V Skin Care line. The H2V line combines botanical and herbal ingredients with tested and results-driven scientific formulas to create an effective collection of products designed to repair and enhance the natural beauty of the skin. Youth Cell Activator is now available for sale in all nine Burke Williams Spa locations for $97.50 per bottle.
The natural stem cell activating blend that sets the formula apart from other anti-aging products is a rare combination of Aminoguanidine used to combat gylcation also known as skin sagging, D-Boldine which is an antioxidant that fights free radical damage and is naturally derived from the Chilean Boldo Tree, and Mexican Bamboo that works as the activator and increases cell metabolism. This blend combined with the Arabidopsis Plant that acts as the catalyst to activate the stem cells, causes a fast penetration that reacts within two hours of use, rather than other stem cell products that typically begin to activate after 24 hours or more. The formula contains no exfoliates and does not strip away the skin, but rather re-energizes the natural cells, and increases moisture retention, collagen and elastin.
Clinical independent studies have shown a visible wrinkle reduction in just three weeks, 100% improvement in the skin's texture and smoothness, a 75% reduction in skin sensitivity, and a 50% improvement in skin radiance with once daily use of Youth Cell Activator. As a cosmeceutical, the formula contains twice the amount of active ingredients that a typical over the counter anti-aging product would contain.
Location – Burke Williams has 9 locations. I visited the Sunset Blvd location in West Hollywood.
Treatment – Anti-Aging Facial
Private room – yes
Time – 75 minutes
Steam – yes
Extractions – yes
Massage – yes
Relaxing – 5 out of 5 – I fell asleep at one point!
Esthetician – 5 out of 5 – she was the ultimate sweetie and really knew her products
Products - H2V Youth Cell Activator and other H2V products
Price* – $$$
Would I go again? Yes!
For more information or to book an appointment visit Burke Williams online or visit them on Facebook and Twitter.
* Price legend:
$ – $0 – $75
$$ – $76 – $125
$$$ – $125 – $200
$$$$ – $200+
My Beauty Bunny does not accept compensation for any product reviews; Press samples have been provided for this purpose. Opinions are the author's own. Article may contain affiliate links.