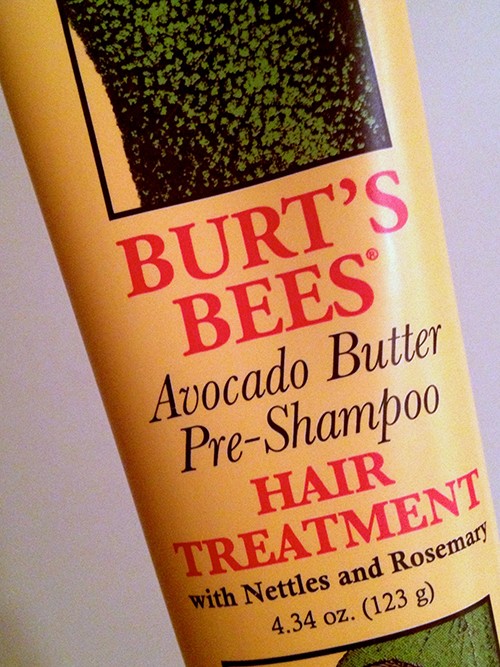 The Avocado Butter Pre-Shampoo Hair Treatment from Burt's Bees is highly versatile. As someone with naturally wavy hair, I'm always looking for a product that manages a good balance between moisturizing and frizz-control that won't weigh hair down, but also won't be so light and water based that it invites more frizz and flyaways in a few hours. Burt's Bees delivers a home run with this product. It blends avocado, almond and olive oils with a light nettle and rosemary scent.
As a styling gel, a dime size amount (or quarter sized if you're hair is longer than shoulder length) can tame rascal tendrils. When you squeeze the treatment into your palm it has a very honey like texture that may seem goopy or off-putting, but with a swipe through your hair's most deviant sections and a comb or brush through to evenly distribute, it's anything but messy in the finish. The Pre-Shampoo Hair Treatment is 99.33% natural, so it doesn't leave the residue or thick smell that some glossers and conditioners have that make you the enemy in the elevator. There is a faint scent, but it's modest enough that it won't tangle with any other styling products you use to make a pungent cocktail.
On the conditioning side, the gel is as kind to the scalp as it is to the hair (which is unfortunately rare in so many similar products). It felt smooth and stayed put without creating a mess on everything it touched that required later clean up. I used my daily hairbrush to brush it through and the brush didn't even need a rinse afterward. It only felt sticky when it first exited the tube, but in application as both a conditioner and styling gel, it was clean and light.
This cruelty free treatment really goes the extra mile; so many conditioners are good only for the shower or only as a post shampoo styling aid, but to find the balance between the two makes this a real gem.
Natalie Nicole Gilbert is a jazz pop singer/songwriter and model who heard surprisingly little about cruelty free make up options in modeling school. NNG is a fan of fine architecture, coffee, classic cars and Monet. Ever an animal lover (including even the furry critters to which she's allergic), she lives in Los Angeles with a red guitar, blue violin, and a future cat named Magnus.
My Beauty Bunny does not accept compensation for any product reviews; Press samples have been provided for this purpose. Opinions are the author's own. Article may contain affiliate links.