As I know that there are many MAC shades that people love, I compiled another list of dupes. I've also got swatches of just about my entire NYX collection for you. All of these shades are swatched on Meow Light Primer.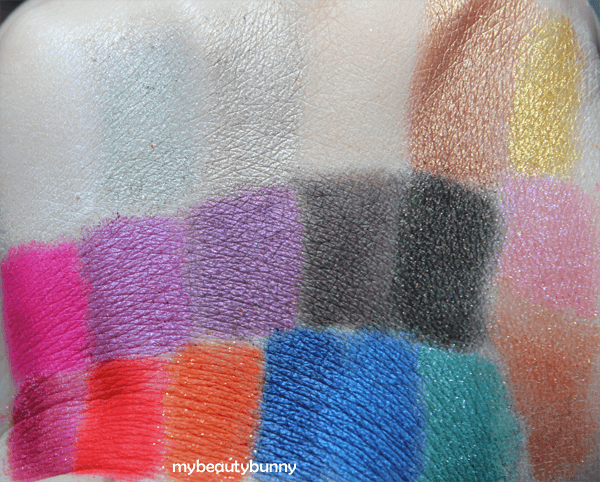 Row 1 Opal – Snow Candy – Eucalyptus – Pure Skin – Pure Gold – Yellow Gold Pearl
Row 2 Red Pink – Purple – Deep Purple – Charcoal Brown – Smoked Mountain – very pink pearl – orange zest pearl
Row 3 Sunny Day – Extreme Apricot – Hot Orange – Atlantic – Kiss in Casablanca – Turquoise Pearl
If you like MAC Vellum, try NYX Opal.
If you like MAC Rose Blanc, try NYX High Light
If you like MAC Humid, try NYX Mermaid Green.
If you like MAC Satin Taupe, try NYX Iced Mocha.
If you like MAC Cranberry, try NYX Rust.
If you like MAC Steamy, try NYX Jungle Fever.
If you like MAC Swish, try NYX Spring Flower.
If you like MAC Aquadisiac, try NYX Jade.
If you like MAC Twinks, try NYX Walnut Bronze.
If you like MAC Golden Olive Pigment, try NYX Ultra Pearl Mania in Lime.
If you like MAC Electra, try NYX Silver.
If you like MAC Ricepaper, try NYX Frosted Flake.
If you like MAC Woodwinked, try NYX Deep Bronze.
If you like MAC Solar White, try NYX Barely There.
If you like MAC Mythology, try NYX Jazzy Bronze.
If you like MAC Expensive Pink, try NYX Wildflower.
If you like MAC Lucky Green, try NYX Lime Green.
If you like MAC Viz a Violet pigment, try NYX Ultra Pearl Mania Purple.
If you like MAC Stars n' Rockets, try NYX Luxor.
If you like MAC Parfait Amour, try NYX Luxor.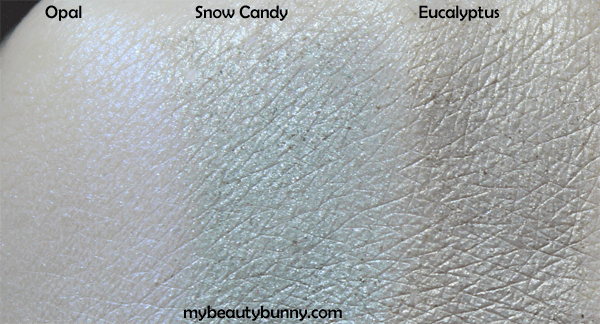 MAC Vellum was a long time favorite of mine. Once I hit pan on it, I went looking for dupes. NYX Opal is very close. While I never had the pleasure of owning MAC Smoke and Diamonds, I do find Eucalyptus to be lovely, especially if you're a taupe fiend. I love Snow Candy.

How could you not like Red Pink? Super bright! Purple and Deep Purple both need a little extra TLC to get them to opacity.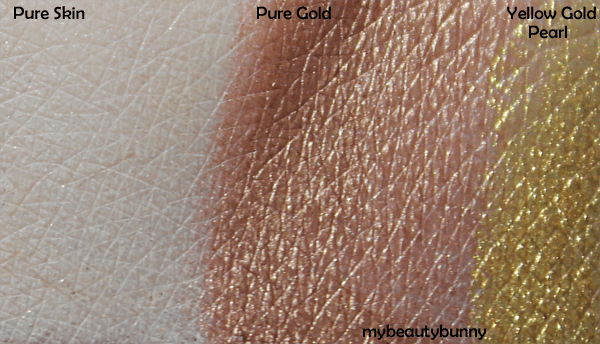 Pure Skin is interesting because it's a yellow-toned creamy matte with subtle gold shimmer. Pure Gold is a gorgeous bronzey gold. Yellow Gold is bright but fun.

Charcoal Brown is a great warm brown-grey crease color. Smoked Mountain is sort of like a blackened olive. Lots of fun. Very Pink Pearl is nice. All of the pearls seem to have good color payoff.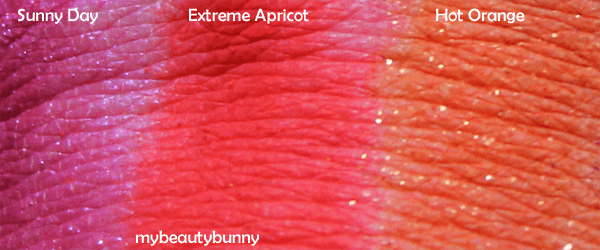 I always think Sunny Day is not aptly named, because it's pink. Extreme Apricot is fierce. Hot Orange has fun gold glitter.

I can see why Atlantic Blue and Kiss in Casablanca are favorites. I like Turquoise Pearl. Orange Zest Pearl is a fun way to try out orange because it leans a bit peach and it's not a loud bright shade.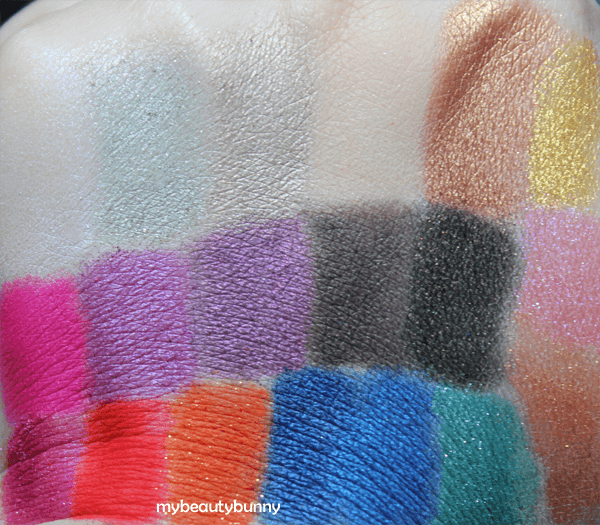 You can check out my other MAC dupe lists – including Silk Naturals and Makeup Geek.
Do you have any favorite NYX eyeshadows? Do you have any good dupes to share? Submit them to the My Beauty Bunny Facebook page, and we may share them here on My Beauty Bunny!
My Beauty Bunny does not accept compensation for any product reviews; Press samples have been provided for this purpose. Opinions are the author's own. Article may contain affiliate links.