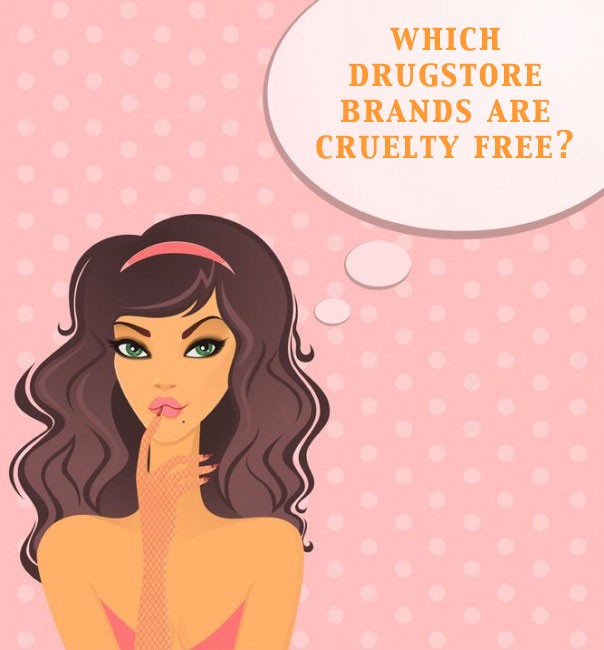 In search of the best makeup products not tested on animals, what better place to look than the aisles of the drugstore where some of our most beloved and go-to products await. When a drugstore giant takes a stance in producing cruelty free product, it's a pretty big deal. We were curious to see which of our favorite brand giants actually supported no testing on animals. The results may surprise you.
Drugstore Brands That DO Test on Animals:
Cover Girl  – From lash blast to lip shine, CG's NatureLuxe and intense blasters are sadly tested on animals.
L'Oreal – There are other cosmetic brands out there that offer a similar true match philosophy, so we don't need you. L'Oreal does test on animals.
Maybelline – Turns out the "Great Lash" is not that great. Maybelline does test on animals.
Neutrogena – We are disappointed that the #1 skin clearing brand takes a yay on the topic. Neutrogena does test on animals.
Revlon – Revlon does 3rd party testing on animals (selling in China)
Almay – Almay is owned by Revlon and does 3rd party testing (selling in China)
Drugstore Brands That DO NOT Test on Animals:
Burt's Bee's – You guessed it already! This earth-friendly skincare line totally supports no testing on animals. Power to the bees…. Err the non-stinging ones at least. (Note: Burt's Bees is owned by Clorox – a company that tests on animals – the Burt's Bees line is cruelty free, but some will choose to avoid the brand because of the parent company. The decision is up to you.)
Jane – The next best Cover Girl alternative, considering Jane was founded by ex-CG executives, this "Not for Plain Jane's" brand is not tested on animals either!
Physicians Formula – It seems like a no brainer that the skin sensitive cosmetic brand would be an advocate of not testing on our furry friends.
Wet 'n Wild – My makeup must when I was a teen, Wet 'n Wild makes a great product if you are looking to stretch your buck and feel good about yourself, since Wet 'n Wild does not test on animals!
Milani is cruelty free and has shades for every skin tone!
Nuance by Salma Hayek (at CVS) has a large line of color cosmetics, skincare and nail polish – all cruelty free!
Also check out: ELF, Pacifica, PurMinerals, Napoleon Perdis
Jessica Krznarc is the Beauty Editor-in-Chief of  MySocialbeauty.com and helps students find the right cosmetology school and beauty school to acquire their cosmetology license.
My Beauty Bunny does not accept compensation for any product reviews; Press samples have been provided for this purpose. Opinions are the author's own. Article may contain affiliate links.