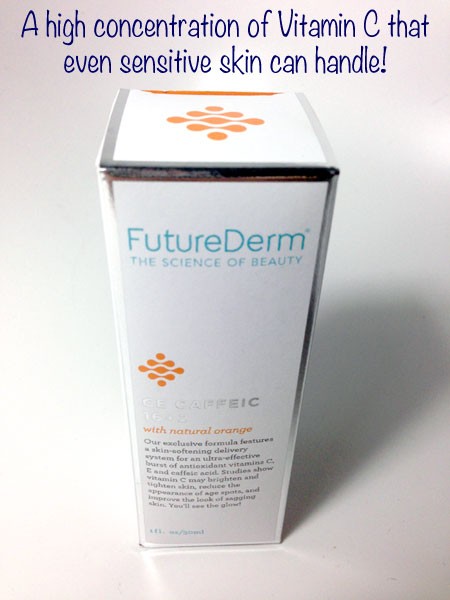 Finally! A Vitamin C serum I can use! I am usually sensitive to any skincare product with Vitamin C. I get small, red bumps and my skin gets generally p*ssed off. With FutureDerm Vit CE Caffeic Serum, not only does my skin tolerate it – it LOVES it! I have seen my skin get brighter and smoother while using this product. It comes in a dropper form, and it does feel slightly tacky when you apply it, but it absorbs into your skin after a few minutes. I use it at night, so it doesn't bother me at all.
The brightening, tightening serum contains an amazing 16% vitamin C, 2% vitamin E, and caffeic acid, all suspended in a silicone base. Unlike other vitamin C serums on the market, FutureDerm Vitamin CE Caffeic Serum is microencapsulated, meaning that it has sustained release of vitamin C for hours at a time (that's probably why it doesn't make my skin freak out).
Founder, Nicki Zevola, is a true skincare genius who puts her heart and soul into formulating these products. Unlike many companies who simply slap their names on run of the mill, mass-produced products, Nicki's products are the real deal. The products are not cheap, but you get what you pay for. Quit using that cheap-o drugstore stuff (that is probably not cruelty free anyway) and take care of your skin with skincare products that actually work!
My Beauty Bunny does not accept compensation for any product reviews; Press samples have been provided for this purpose. Opinions are the author's own. Article may contain affiliate links.