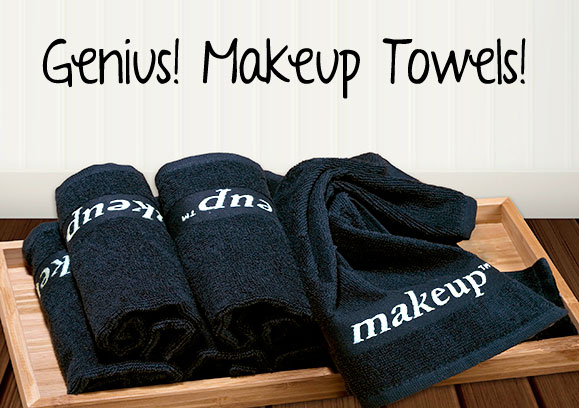 When I was younger, I could always tell when my grandma had come by my parents' house, because the washcloths in the guest bathroom were always covered with makeup! Now as an avid makeup user, I am doing the same thing. My boyfriend's parents recently bought us some new towels (thanks guys!) and I have to be sure Gregg uses the lighter colored ones, because I don't want to ruin them with makeup or hair dye!
The Turkish Towel Company has brought a major win into my life with these black makeup towels. So simple, and so practical – why has no one thought of this before? They are labeled "makeup" so there's no confusion! This is your washcloth and you can clean your face at night without ruining your towels! I also like to keep a towel by my makeup area in the bathroom, so I can wipe my brushes off between colors. It saves on tissue waste, and it's the perfect size. Any makeup artists out there? You need these for your kits!
Well, The Turkish Towel Company was nice enough to offer a prize for My Beauty Bunny readers – 3 towels for one lucky winner! Enter below via the Rafflecopter widget. You must be 18+, US only. By entering, you agree to the official rules.
My Beauty Bunny does not accept compensation for any product reviews; Press samples have been provided for this purpose. Opinions are the author's own. Article may contain affiliate links.