A few days ago I had a Customized Facial featuring Fibroblast Growth Factor, LED Light therapy and Iontophoresis from Geri G in West Hollywood, CA. The result was more healthy, hydrated and softer skin. After analyzing my skin Geri felt that it needed a boost of nutrients that could be better penetrated and accepted by the skin via LED lights and followed by Iontophoresis, a gentle current that works with your body's own polarity to allow for better product absorption into the underlying skin layers.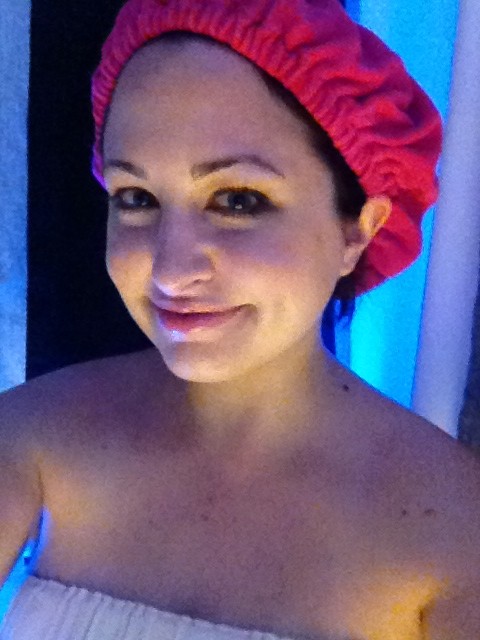 Geri made me feel like royalty. She only works on one client at a time, so you have the whole place to yourself. The salon is gorgeous and Geri really made me feel at home. She was even nice enough to run out to my car to put quarters in the meter! When you visit, she will really take care of you.
I enjoyed the facial very much and afterward my skin looked very hydrated, smooth and clean. The only part that was a little intense was the LED therapy – instead of a wand application, it was a series of lights that sit over your face and flash red and green. It's the kind of light that doesn't go away when you close your eyes, so I can't say I enjoyed that part, but it wasn't terrible either. The purpose of the LED lights is to increase collagen production and skin turnover, reduce inflammation, and decrease hyperigmentation (dark spots). More info on LED lights here.
All facials include Geri's one-on-one coaching on nutrition for inner and outer results. Geri gave me some of her nutritional meal replacement shakes and alkalizing supplements to try, so I'll let you know how those work for me.
Location – Geri G is located at 916 1/2 N La Cienega (between Melrose and Santa Monica Blvd.) in the center of West Hollywood's uber-chic interior design corridor.
Treatment – Customized Facial Featuring Fibroblast Growth Factor, LED Light therapy and Iontophoresis
Private room – yes
Steam – yes
Extractions – yes
Massage – yes
Relaxing – 5 out of 5 – wonderful atmosphere – except for the LED therapy – blinking lights are great for skin, but not for relaxation
Esthetician – 5 out of 5 – Geri is an expert on skincare, makeup AND nutrition!
Products – Geri G. products
Price* – $$$$
Would I go again? Yes!
* Price legend:
$ – $0 – $75
$$ – $76 – $125
$$$ – $125 – $200
$$$$ – $200+
Geri also introduced me to her makeup line. All of the products include ingredients that are GOOD for your skin – and no bad stuff. And all are cruelty free of course.
Her Transceutical Canvas, is a moisturizer, primer and and night treatment in one. It includes her proprietary blend of Nanomarine-5 healing antioxidant and pro-vitamin nutrients. It smells great and doesn't irritate my skin. For long-wearing results, apply Transceutical Canvas to the skin before powder foundation. You can also apply to eyebrows and lashes. Apply small amount to the back of the hand and add a dab of mascara. Mix together and voila! Instant eyeliner. Also add to any powder for custom blending. You can also add Transceutical Canvas to any eye shadow to create your own custom eyeliner color.
Exclusively designed by Geri G, the Canvas Brush is a one-of-a-kind, cruelty-free, vegan brush perfect for achieving natural, all-over coverage with just a couple of strokes. For contour, blush, or bronzing results, the Canvas Brush is the perfect accomplice for Geri G Innocent Foundation and Radiance Powders. It cleans easy, is fast-drying, and non-moisture absorbing, making it antibacterial, naturally. It's a small brush, but works well with Geri G's products.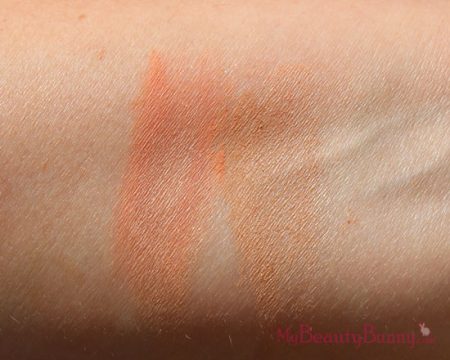 Geri's Blending Cheek & Eye Duo can be used for a healthy glow on cheeks and eyes. You can use the colors mixed together or one at a time. The colors are much more subtle than they appear in the container. The formula includes green tea, white tea and Nanomarine-5.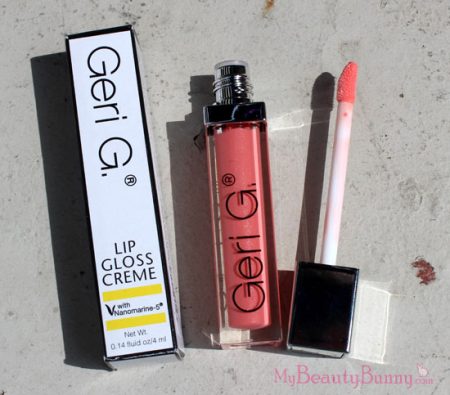 The Lip Gloss Creme is made with white tea, green tea, Vit E, aloe vera and Nanomarine-5. They are not sticky and very shiny. You can wear them alone for a natural look, or over lipstick for a sexy shine.
I'm in love with the Plush Lash Mascara because it SMELLS LIKE ROSES! I love anything that smells like roses. But, aside from that, it doesn't clump, gives good length and volume and it's made with rose water, Nanomarine-5, bladderwrack extract, aloe vera and marine hair enhancer.
For more information or to book an appointment, visit Geri G online.
My Beauty Bunny does not accept compensation for any product reviews; Press samples have been provided for this purpose. Opinions are the author's own. Article may contain affiliate links.