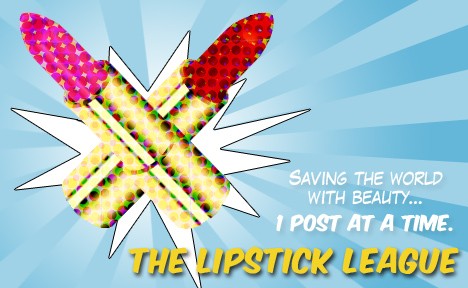 Question of the Week – Have you ever had your makeup done by a professional makeup artist? If so, tell us a bit about the experience(s).
Answer – As a makeup blogger I've been lucky to have my makeup professionally done numerous times. I've learned a few important lessons along the way:
1. Don't overload the product – all the pros I've worked with use just a dab of makeup at first, and the added more (concealer, gloss, shadow, etc) as needed.
2. Blend, blend, blend – I'm always amazed at the amount of time makeup artists spend blending. From foundation to blush to eye shadow, blending well is key to getting the most from your makeup.
3. Speaking of time – slow down! Most of us have our makeup routine condensed into a 10 minute process, while a pro may spend a half hour of more getting things 'just right'. When you have a big night out or special occasion, set aside a good 30 minutes or more to really perfect your look.
Readers – have you ever had a pro apply your makeup? What did you learn from the experience?
Please Note: Not all Lipstick League posts are cruelty free.
My Beauty Bunny – They say living well is the best revenge – and your nails will be living in style when painted with a polish from NCLA's Sweet Revenge Collection. Come take a peek!
Nouveau Cheap – Drugstore polishes that look like Vintage Leather on the nail? Yep, and they're from Maybelline!
Pink Sith – Needs more nail polish like a squirrel needs a can opener, but that didn't stop her from picking up the latest Urban Decay Nail Polishes in Addiction and Vice.
Prime Beauty – was gobsmacked when she had the opportunity to have her hair styled by big-time British celebrity hairdresser Mark Hill. Mark has crossed the pond and launched his salon professional line in Walgreen's!
Phyrra – shares the best CC Cream with you; It Cosmetics Anti-Aging Full Coverage Physical SPF 50 CC Cream. And it comes in 5 shades!
Vampy Varnish – shows you the latest and greatest Zoya collection called Cashmeres and Satins for fall 2013.
we heart this – loved the Benefit The Rich is Back palette at $34, but did you know it was just marked down to $24? It's a beautiful deal!
Beauty Junkies Unite – See which lippies were hits, and those that were misses in the new MAC So Supreme Lipcolor Collection!
Clumps of Mascara – is hosting a giveaway where you could possibly win a $125 Visa gift card. Sounds pretty groovy, huh?
EauMG – is kicking it old-school with this review of an iconic 1980's fragrance, Jessica McClintock.
Gouldylox Reviews – Want to make your eyes pop? Try this new mascara from Make Up For Ever!
Guest Post of the Week, as chosen by My Beauty Bunny – We are constantly in awe of the tips, tricks and tutorials shared by the lovely Christina at Hair Romance. Like this Easy Braided Updo; the perfect solution for any bad hair day!
My Beauty Bunny does not accept compensation for any product reviews; Press samples have been provided for this purpose. Opinions are the author's own. Article may contain affiliate links.