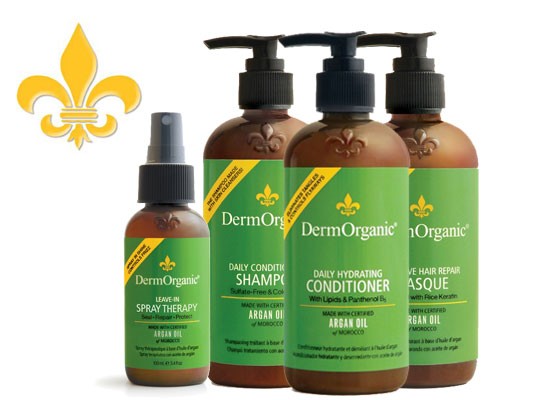 Valentine's Day is coming up and I love my boyfriend, but what he doesn't know is that I'm also madly in love with my favorite hair care brand, DermOrganic. Shhhh – don't tell him – it would break his heart!
DermOrganic is vegan, cruelty free, gluten free, sulfate free, paraben free, preservative free and pH balanced. It's made with argan oil, which my hair just LOVES. What I like about the products is that they don't put in too much argan oil – just enough to make your hair look shiny and amazing without weighing it down (I have very fine, wavy hair). No sulfates, so you don't have to worry about washing out your hair color. But they DO lather! Even without the SLS!
The shampoo, conditioner and hair masque are products I use daily. I even take them with me when I travel. The leave in shine therapy is out of this world! It does have dimethicone though (the shampoo, conditioner and masque don't), so I try not to use it every day (to avoid build up). I like the body lotion, and I can't wait to try their new toner and pure argan oil!
It's good stuff and not crazy expensive. You can get it online (www.dermorganic.com) or at ULTA stores. I've heard Phyrra even uses the shampoo on her standard poodle!
Brought to you by Coupons.com. Check out their Valentine's Day deals and their giveaway to win a dream vacation (if you win – take me!). Coupons.com is ALSO giving away a $200 gift card to Sephora or SpaFinder – wait for the Rafflecopter to load below or click here. You must be 18 or older and a US resident to win. Giveaway ends Feb 14, 2014. By entering, you agree to the official rules (in the widget below).
a Rafflecopter giveaway