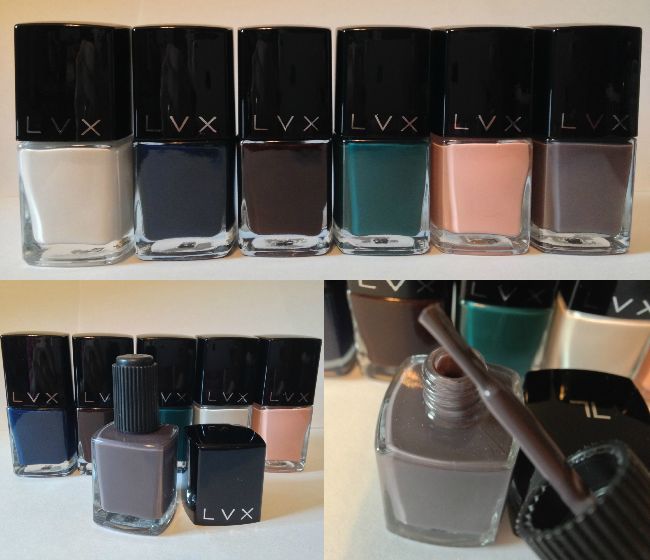 If you are unfamiliar with the LVX brand, they are a US based nail polish company that is cruelty-free; vegan and they have an amazing 5-free formula. They are also deeply devoted to fashion, which means they are always on top of the latest color trends and turn them into beautiful streak free polishes for you! All of the bottles have a removable square cover revealing a smaller handle that is much easier to hold and see what you are doing! (Very thoughtful!) Here are my swatches and review of their 2013 Fall/Winter Collection.
This line consists of 6 shades with a cream finish that is opaque in just 2 coats.
Cashmere is a very pale grey/off white shade. It really does remind me of a soft sweater and although it's in the fall collection, I think it's the perfect winter color.
Cliquot is another soft shade that is a lovely warm nude/peach with slight pink undertones.
Relique is a soft medium grey with cool purple undertones. I love this shade and I think it would look great paired with Cashmere!
Next up is Viridis, they describe it as an emerald on the website, but I think it's much more of a dark teal, but it is beautiful nonetheless.
Now we're getting into the dark shades (oh how I love them!) Azzurrum is a rich deep navy. It's such a statement on it's own but I think this would also be great paired with the Cashmere shade.
Lastly is Dahlia, a gorgeous blood red crimson shade. I did 3 thin coats of this one to get that ultra deep red look. Super shiny and glossy…I just love it!
So, my favorite shades from this cruelty free collection are Relique, Viridis and Dahlia. The whole collection is very easy to wear and I think it will look great with any skin tone. The darker shades seem to dry to more of a glossy finish than the lighter ones, but a quick topcoat fixes that. (I bet these would look great with a matte topcoat as well) They all have an awesome non-streak formula, which is a pleasure to work with!
Kristina is a mom of 2 and a small time beauty blogger. She enjoys cooking, gardening, shopping, bargain hunting, wine, coffee and of course writing beauty reviews! You can read more of her posts on The Feminine Files blog or follow her on Facebook.

Press samples have been provided for review. Opinions are the author's own. Article may contain affiliate links.