Cruelty Free Beauty Brand – Marie Veronique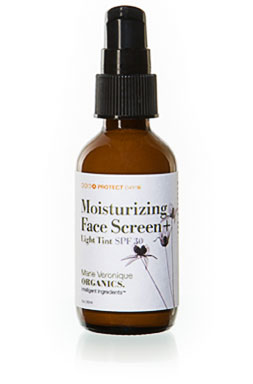 For me, what's most intriguing about Marie Veronique Organics is the company's background.  Since I'm a woman, I always appreciate when I can support a company that either highly values women or is itself comprised of intelligent women.  MVO was founded by three women—a former chemistry teacher, a physics professor, and a marketer—and due to both their career and personal experiences, these ladies sought to create products that effectively utilized scientific advancements while still relying on nature for pure ingredients.
And truly "cruelty-free" they are—from the procurement of ingredients to the ingredients themselves, the company practices sustainability.  Furthermore, the company donates 10% of profits to The Acumen Fund, an organization that focuses upon enhancing opportunities for women and children in third-world countries.
Marie Veronique Organics' skin care line centers on a basic, four-step process: Cleanse, Hydrate, Replenish, and Protect & Repair.  MVO also offers anti-aging, vegan, acne-relief, and kid-safe formula kits.  I was able to sample an anti-aging kit, which included (1) Gentle Cleanser, (2) Anti-Aging Mist, (3) Anti-Aging Oil, and (4) Moisturizing Face Screen.
Here are my top five favorite things about the MVO products I received:
1.  The packaging!
The kit came in a miniature burlap sack, and within the sack were two vials, a bottle, and a spray bottle—all made of dark-brown glass.  I was reminded of all the best parts of chemistry class—you know, excluding that whole "memorize the entire periodic table part."  With clinking glass vials, I feel as if I'm holding a special concoction created in small batches.
2.  The font and the information!
When I receive a product, I trust it a great deal more when the materials are typed in a clean, easy-to-read font with no grammatical errors.  The MVO lettering and insert is clean, modern, and hip with the times.  I would feel comfortable giving this as a gift or recommending the products and site to a friend without a great deal of explanation.
3.  The lightness!
Each product—even if it has "oil" in the name and is characteristically expected to be super greasy and super weighty—in my opinion, feels light, clean, and fresh.
4.  The scents!
The products smell somewhat earthy and herbal without smelling medicinal.  I hate artificial floral scents and whatever they insist on using in most drugstore shampoos and conditioners—why go so over-the-top when you can let true, natural ingredients themselves do the work?  I feel like I am indeed getting actual herbs, and each product smells quite differently.  The sunscreen even smells more like an astringent.
And finally…
5.  The sunscreen!
I have to say, the sunscreen is what intrigued me the most from the get-go, and I think it's the most unique and most interesting MVO product I received.  The Moisturizing Face Screen contains SPF 30 and is tinted, and though the shade I received is a little dark for my skin tone—I keep sunscreen on my face non-stop so my face is quite lighter than other parts of my body—I was really impressed with what it offers.   It's fully tinted, but it's lighter in weight than makeup base—it's even lighter than the concealer I use—plus it blends super easily into the skin.  Also, my skin wasn't oily post-application and powder blended right over it with no clumping.  The website also offers the Face Screen in Light Tint and No Tint.
http://mvorganics.com/ hosts a wealth of information—again, presented in a clean, professional format.  As scientists, these ladies rely a great deal on research, so you can get the scoop on both their ingredients and additional research about relevant topics in the industry.  Products can be also purchased directly through their online store.

Press samples have been provided for review. Opinions are the author's own. Article may contain affiliate links.