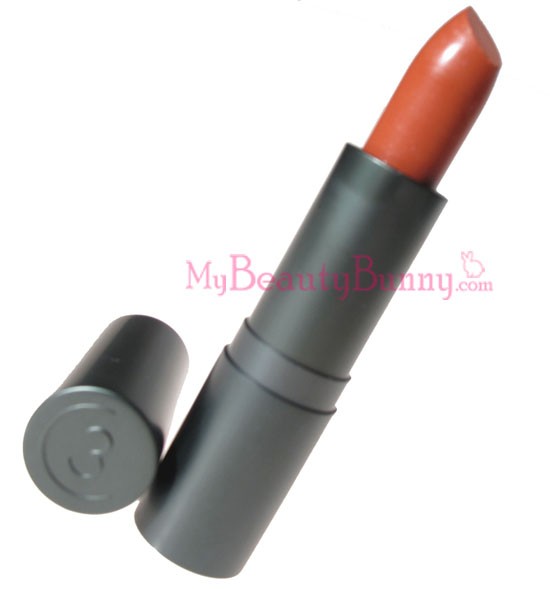 You guys, I am SO excited to share this with you! I collaborated with 3 Custom Color to create my very own cruelty free My Beauty Bunny lipstick and I'm giving 10 of them away to my readers!
The lipstick is still in the process of being made, so I will post more pics as soon as I get my sample. The photo above is an accurate representation of the color – a fabulous, warm orange/coral! I actually mixed this color myself with the goal of creating a fun color that works on many different skin tones. Learn more about cool vs. warm tones here.
In the pic above you can see part of the creation process – in my apartment! Tess from 3CC and I mixed and blended and tested. A few butter knives and a pair of ruined pants later (sorry Tess!), we came up with the perfect color.
Okay, so not the best pic of me squinting in the sun (I am a golem you know), but I think you can see the color is pretty wearable. I also love BRIGHT orange lipstick, but I figured I might be in the minority, so I toned it down.
You can buy this fantastic (if I do say so myself) shade of lipstick at Three Custom Color! AND, enter to win one of TEN My Beauty Bunny lipsticks!
Just wait for the form below to load – comments on this post are welcome, but will not be accepted as entries. Ends 9/20 at 12:01 am EST. You must be 18 or older and have a US shipping address.
My Beauty Bunny does not accept compensation for any product reviews; Press samples have been provided for this purpose. Opinions are the author's own. Article may contain affiliate links.