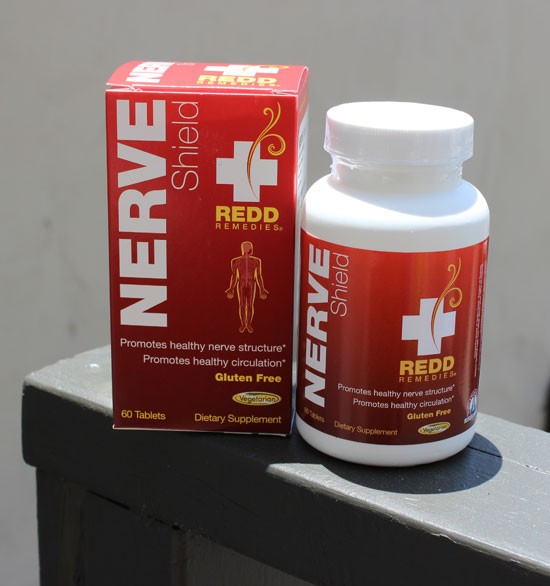 You guys know I'm always looking for ways to treat my "blogger back" and migraines. I recently tried a supplement that helps with overall inflammation, nerve function and has some mega antioxidants. This is something I recommend trying along with a healthy lifestyle (easier said than done right?) – things like meditation, yoga, light cardio and dietary changes. This is also something to try if you have nerve issues like pins and needles or burning.
Nerve Shield by Redd Remedies is a powerful formula that addresses multiple systems to promote healthy nerve function.
Nerve Shield provides nutrients that:
promote a healthy myelin sheath and overall nerve structure
provide powerful and comprehensive antioxidant protection
promote a healthy inflammatory response
promote healthy circulation
Nerve Shield is a comprehensive combination of herbs, amino acids, vitamins, and other nutrients that target the peripheral nervous system to promote health.
Key Ingredients:
B-Vitamins are important to the structural integrity of lipids found in the myelin sheath.
Alpha Lipoic Acid has been shown in research to have the ability to promote normal nerve function.
Acetyl L-Carnitine promotes normal nerve fiber structure.
Phosphatidyl Complex contains lipids that comprise 76% of the myelin sheath.
Huang Bai and Cang Zhu, used in Traditional Chinese Medicine for over 2,000 years, promote normal circulation and increases flow of qi, or energy to the extremities.
Baikal Skullcap is a potent antioxidant and promotes normal expression of the COX-2 enzyme, responsible for inflammation.
Turmeric, standardized for curcuminoids, is a potent antioxidant and is indicated in research to promote a healthy inflammatory response.
Nerve Shield is gluten free, cruelty free and vegetarian (I have heard they are actually vegan, but can't make that claim publicly without extensive testing).
In my opinion, Nerve Shield is good for you – even if you don't have any major health issues. These are all ingredients that help with overall health. B Vitamins are obviously necessary (and water soluble so you don't have to worry about over-doing it with this dose). Turmeric and baikal skullcap are incredible antioxidants. And L-carnitine can even help with weight loss!
NOTE: I'm not a doctor (surprise!) so ask your doctor before taking anything. And the FDA doesn't regulate supplements, so they make supplement manufacturers say this: *This statement has not been evaluated by the Food and Drug Administration. This product is not intended to diagnose, treat, cure, or prevent any disease.
My Beauty Bunny does not accept compensation for any product reviews; Press samples have been provided for this purpose. Opinions are the author's own. Article may contain affiliate links.