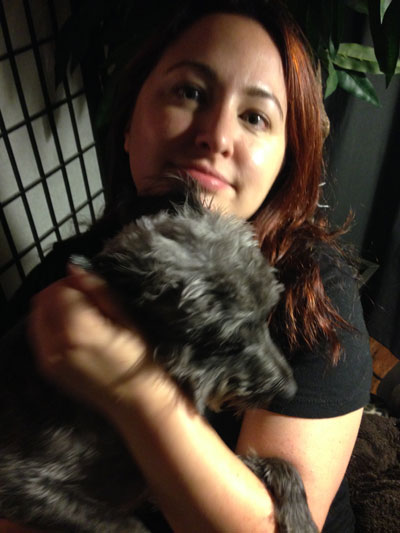 October is Adopt a Shelter Dog month! You guys know I love my Riley dog (adopted from the North Central LA animal shelter), and he loves to be in my pics, so he helped me with my NCLA manicure. He's not really good at holding the nail brush (no opposable thumbs and all that), so we just took some pics together.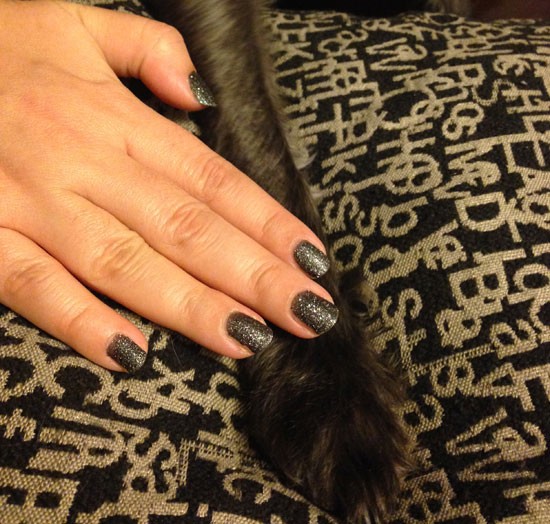 The color is called "My Dad Invented That" – a deep graphite with multi-colored glitter. Mainly silver glitter, but with a little red, green and gold thrown in for pizazz (you can't really tell in the pics, but it's there!). It's textured, so it does feel rough to the touch, but it looks awesome, and I got a ton of compliments while wearing it.
All my pets have been adopted from shelters and I strongly support L.A. Love & Leashes, a non-profit pet store that helps adopt out pets from the LA shelters. I do pro bono social media marketing for them, so do me a favor and like them on Facebook and Twitter!

Here are some other great links to check out in honor of Adopt a Shelter Dog Month!
Tips for the first 30 days from Petfinder
Picking the right dog for you and your family from Petfinder
Find a shelter near you:
http://www.aspca.org/adopt/shelters
http://www.petfinder.com/animal-shelters-and-rescues/
Check out the shelter dog manis from my beauty blogger friends:
My Beauty Bunny does not accept compensation for any product reviews; Press samples have been provided for this purpose. Opinions are the author's own. Article may contain affiliate links.