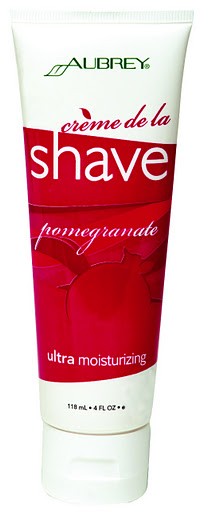 Written by Abi Mogge, Staff Writer.
I love a good shaving cream. Let's just say that I have some swarthy eastern European ancestry and when it's the dead of winter, with no capris in sight, sometimes I'll just let my legs revert back to their natural warm & fuzzy state. When I want to feel like a girl again, I love to use a luxurious shaving product and turn the whole process into a pampering bath time ritual. Aubrey Organics Crème de la Shave is a moisturizing shave cream that protects and soothes the skin with emollients and fruit extracts.
I tried the Pomegranate scent, which contains antioxidants to protect and tone as well. I loved the thickness of this cream; I only needed a little bit to ensure a close and comfortable shave. There is way less irritation when I use a thick cream like this (and usually less nicks and cuts) and my legs feel smoother than when I use products like soap or conditioner.
Aubrey Organics is certified by Leaping Bunny, and their commitment to organic and sustainable products and practices has been recognized by other regulatory organizations like the USDA, BDIH, QAI and NPA. Be sure to check out their website, Aubrey Organics, for more information on this company and their commitment to environmental sustainability.
Crème de la Shave is available in 5 different formulas and scents. You can check them out and purchase online at their website for $5.77 (free standard shipping on orders over $25!). You can also find Aubrey Organics at many national health food stores.
My Beauty Bunny does not accept compensation for any product reviews; Press samples have been provided for this purpose. Opinions are the author's own. Article may contain affiliate links.