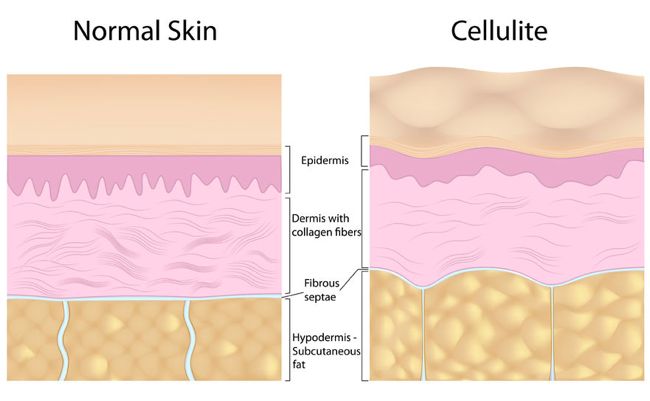 Cellulite. No one wants it, but most of us have it. Why are so many women affected by this problem? The body/skin tissue of women is much more elastic than men's, to adapt to the changes their bodies undergo during pregnancy. This "orange peel" looking skin condition is not restricted to curvier women nor is it dependent on weight. Cellulite is not inherited, rather, it is in women's genetic code.
What causes cellulite?
Cellulite is an imbalance of fat production (lipogenesis) and fat breakdown (lipolysis) within the cells, leading to the formation of large fat cells that bulge towards the surface of the skin, giving it the characteristic dimpled orange peel appearance.
Keep your cellulite in check. Tips to prevent it before it strikes
The weight issue: Try to avoid rapid weight gain or weight loss. The BMI method is a good way to check what your ideal weight should be according to your age and height. Avoid drinks with artificial sweeteners as they have shown to increase sugar cravings, which are detrimental to weight control. Drink plenty of water and eat veggies, fruits and cereals that are high in fiber.
Skinny doesn't help: Being thin or underweight also doesn't save a woman from cellulite. Fatty cells that usually buffer the skin are almost gone, leaving "craters" that show as cellulite.
Sport is the best weapon: Though this may be the most challenging, being active is the most effective and healthy way to prevent "orange peel." Try to exercise daily – 10 minutes for the stomach, thighs and glutes. To further improve results, use anti-cellulite creams.
Swim past it: Swimming is the most effective calorie-burning option. Moreover, cold water helps you burn fat to keep the body at its normal temperature of 98.6 degrees. Thirty minutes 3 times a week will do miracles! Don't forget to use a anti-cellulite cream afterwards to boost the effect further.
Pinch it: It may sound painful, but massaging and pinching is a long-used method for fighting cellulite. Pinching speeds up metabolism and blood circulation to prevent fat deposits. Or you can try the BelleCore Body Buffer. I'm currently testing one out now and while I haven't used it enough to tell you if it works (to reduce cellulite), I will say that it is intense! More like a power tool than a beauty tool – so if anything works, I would think the Body Buffer would! It's also a great massager after workouts. Keep your eyes peeled for a full review and giveaway coming soon.
Cellulite Busting Ingredients:
Caffeine is one of the best metabolism boosting ingredients, and used in most topical anti-cellulite treatments.
Phlorizin from the fresh green of apple trees helps stop the Lipolysis in the night.
HMC or Hesperidin Methyl Chalcone prevent the inflexible bridges between collagenous fibers.
Magan boosts the microcirculation and the detoxing during the night.
Nagelkrautextrakt helps stop water retention and detoxifies during the night
Xanthoxyline from Chinese Szechuan pepper increases fat burning in cells
Rutin and Escin minimize fat deposits
Ginko Biloba strengthens water drainage
Yam root extract prevents the production of receptors that are responsible for lipogenesis
Algae improves the skin surface and gives it more elasticity
Silica – naturally found in oats or taken in pill form help revitalize and strengthen from the inside
Info from beautypress.com.
My Beauty Bunny does not accept compensation for any product reviews; Press samples have been provided for this purpose. Opinions are the author's own. Article may contain affiliate links.