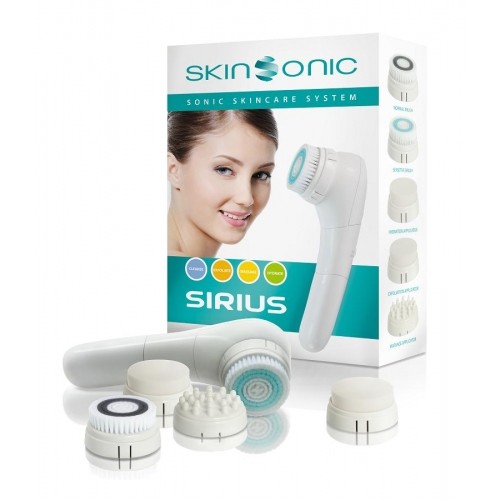 So, I've been trying a lot of beauty gadgets lately, and I have to tell you about the Sirius Skinsonic. Kind of like an electric toothbrush for your face, the Skinsonic is similar to the Clarisonic Mia (which I have not tried), but much more affordable ($49 compared to $149). Does that mean it doesn't work as well? Not necessarily. I haven't tried the Clarisonic Mia, but here's how their features compare:
Both use sonic technology which means the bristles move at over 300 movements per second.
Both have one speed (Clarisonic offers more expensive versions with more speeds – I don't think that's necessary to see results though).
Clarisonic offers more colors and personal engraving (not really something I'd pay more for…)
Skinsonic comes with a sensitive brush head, normal brush head, exfoliation head, toning head and hydration head. The Mia only comes with a sensitive brush head.
So, both gadgets will give you a much deeper clean than you can get with manual washing. More makeup and dead skin will be removed, which means less acne, smaller-looking pores, reduction in fine lines (the exfoliation encourages your body to renew the skin) and more even skin tone.
The Skinsonic comes with a hydrating head to push gels and serums into the skin for better absorption, an exfoliation head for deeper exfoliation (it's just like the hydration head but you use it with your own exfoliating face scrub), a normal head (I just use the sensitive skin head – it's more than enough for me), and a toner head. The toner head is like a massager for your face – you can use it on damp skin to increase circulation and reduce skin sagging. Does this work? Probably with regular use, but don't expect plastic surgery or Thermage-like results. You have to go to a medspa or doctor for that.
Oh – one more thing. If you have open acne sores, be careful about spreading bacteria on your face. Use on areas without sores only, and be sure to clean the brush well between uses. Too much exfoliation and massaging can stimulate oil production, so I don't think acne-sufferers (like myself) should use this every day. I use it about 3x a week and I have seen great results. Stick with the sensitive brush head too – no need to get too rough. You can try using the normal brush head on your back, arms, chest, etc.
Overall, I think it's a great gadget to have in your beauty arsenal and it's truly affordable!
My Beauty Bunny does not accept compensation for any product reviews; Press samples have been provided for this purpose. Opinions are the author's own. Article may contain affiliate links.