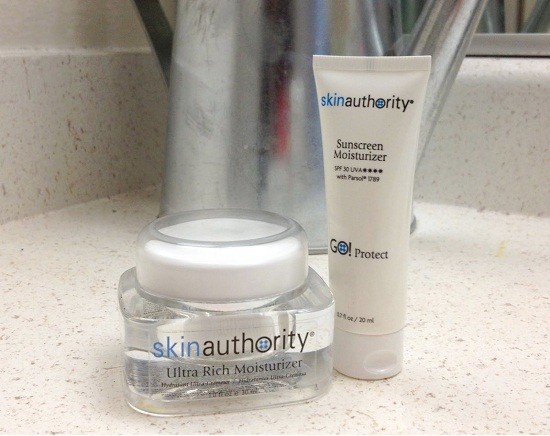 Written by: Claire Johnson, Contributing Writer
Winters in L.A. can be harsh. Don't laugh, I'm being serious. The Santa Ana winds and the bipolar weather really end up taking a toll on my skin. Since I'm being honest, my skin looked dehydrated and gross, and for somebody who idolizes Emma Watson's gorgeous skin my dull skin was NOT the business. My regular moisturizer and serums weren't doing the trick, and I knew I had to try something different.
Enter Skin Authority's Ultra Rich Moisturizer and Sunscreen Moisturizer. The moisturizer, like any regular moisturizer, took a bit to see results from, but while I was waiting for it, I immediately fell in love with the sunscreen. Skin Authority's Sunscreen Moisturizer is a very dry application; I can apply it and immediately put my makeup on right over it. What do I love the most about the Sunscreen Moisturizer? It doesn't leave that awful ghostly shadow across my face or an oily sheen! Finally a sunscreen that doesn't make me look like a Twilight character.
As for the Ultra Rich Moisturizer, I've been using this for the past two and a half weeks only at night. Using the moisturizer at night ensures that my skin is reaping all of the benefits. Skin Authority's moisturizer contains amazing ingredients like mango seed butter, cranberry seed oil, shea butter, and aloe; just the right combination of natural emollients, antioxidants, and skin soothing ingredients. Did I mention that both of these products smell citrus-y and delicious? Yeah. Boom. Cosmetics that smell yummy AND work AND are cruelty free. Add to cart.
Check out the rest of Skin Authority's products on their website and follow them on Facebook!
My Beauty Bunny does not accept compensation for any product reviews; Press samples have been provided for this purpose. Opinions are the author's own. Article may contain affiliate links.