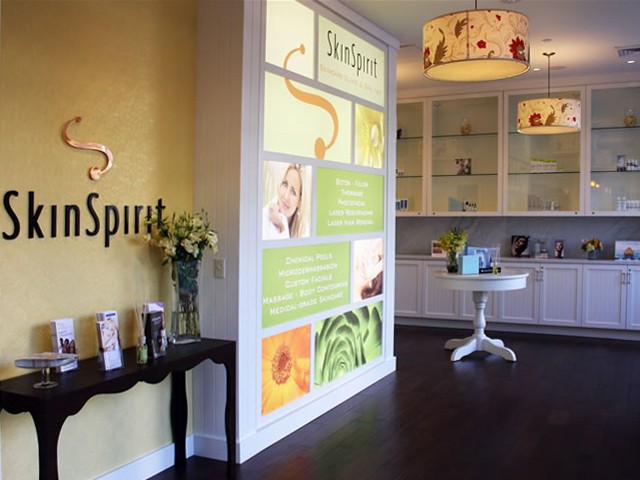 You guys know I love me some med spas! Sometimes you need more than a lotion or potion to get the job done! I was recently invited to a beauty event at SkinSpirit in Mill Valley (near San Francisco). The place was gorgeous, and I got to try some free treatments – always fun!
I had a deep cleaning, microdermabrasion session, that made my skin look glowy and refreshed. There was no redness or any pain or downtime or anything like that. Just happy skin! I highly recommend getting regular microdermabrasion treatments to keep your skin in great shape. It helps remove the top layer of dead skin, so with repeated treatments, you'll see a reduction in acne scars, fine lines, hyperpigmentation, etc.
I really enjoyed my Velashape treatment. This is the second time I've tried Velashape. VelaShape is a non-surgical, FDA-cleared medical device that targets and treats unwanted fat areas and smoothes out cellulite. VelaShape uses a combination of heat, suction, and radio frequency/optical light energy to precisely, safely and quickly slim and smooth problem areas. The first time was on the front of my thighs, and this time was on the backs of my thighs and bum. I find it to be pretty uncomfortable, but I have VERY sensitive legs. Everyone I know who has tried it says it feels like a warm massage. I guess I'm a wuss. BUT, it's totally worth it. You would normally have a series of 5 treatments and then maintenance after that. I saw a huge difference after just one session! It even helps to remove any red bumps you have in those areas.
SkinSpirit has 3 locations in Northern California, and they have just about any med spa treatment you could possibly ask for. They do laser hair removal, massage, Thermage, Ulthera, photofacials, laser resurfacing, chemical peels, Fraxel, facials and more! The staff are just lovely – very friendly and accommodating. I highly recommend SkinSpirit!
My Beauty Bunny does not accept compensation for any product reviews; Press samples have been provided for this purpose. Opinions are the author's own. Article may contain affiliate links.