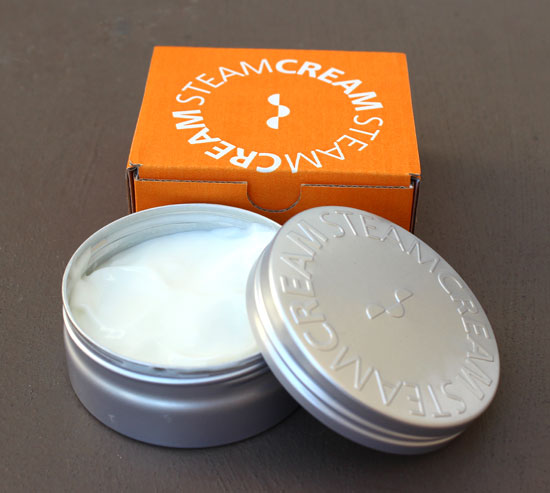 STEAMCREAM is coming to the US! For those of you who haven't heard of the brand, it's freshly handmade using high-quality, natural ingredients that are fused together by a shot of steam. This unique method makes the cream very lightweight (not greasy AT ALL), providing long-lasting hydration for the face. The texture also makes it a perfect nourishing treat for your body and hands too.
The best thing about STEAMCREAM is the scent – it smells like a relaxing spa. It's definitely up their with my favorite scents of all time. Instant relaxation. Even my boyfriend likes the scent and he's a picky dude. The natural ingredients include orange flower water, lavender essential oil, cocoa butter, oatmeal infusion and rose absolute. They dispatch it straight from their kitchens in the UK and Japan to their customers all over the world.
The tins are cute and come in many different designs. The tins are adorable, but I don't love sticking my fingers in them to scoop out product. I also wish they came in a larger size. So, a larger sized pump with a cool design, would make this the ultimate product for me.
STEAMCREAM is vegan and cruelty free! From their website:
We use the best quality natural, vegan ingredients, directly from sustainable sources and suppliers who comply with our non-animal testing policy. This means that STEAMCREAM can be beautiful, effective, ethical and affordable.
You can purchase at select spas and some Duane Reade locations in NYC, or you can order online with FREE international shipping!
My Beauty Bunny does not accept compensation for any product reviews; Press samples have been provided for this purpose. Opinions are the author's own. Article may contain affiliate links.