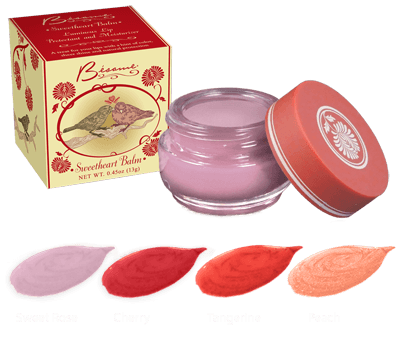 Written by: Lauren Warner, Staff Writer
The vintage packaging of Besame Cosmetics will make you feel as if you have stepped into the glamorous 1930′s. You'll start wishing you had white gloves and a clutch purse before applying this adorable Sweetheart Lip Balm. Besame Cosmetic's Sweetheart Balm is cruelty free and gives your lips an elegant, long lasting finish with a hint of color and shimmer. I tried "Peach" and I loved that it had a light shimmer that seemed to have gold overtones. The peach color was just pink enough for my olive skin tone which gave my lips a classy look. The color was subtle enough to look sweet without looking too obvious or bright. The Sweetheart Balm also comes in Cherry, Tangerine and Sweet Rose.
My Beauty Bunny does not accept compensation for any product reviews; Press samples have been provided for this purpose. Opinions are the author's own. Article may contain affiliate links.