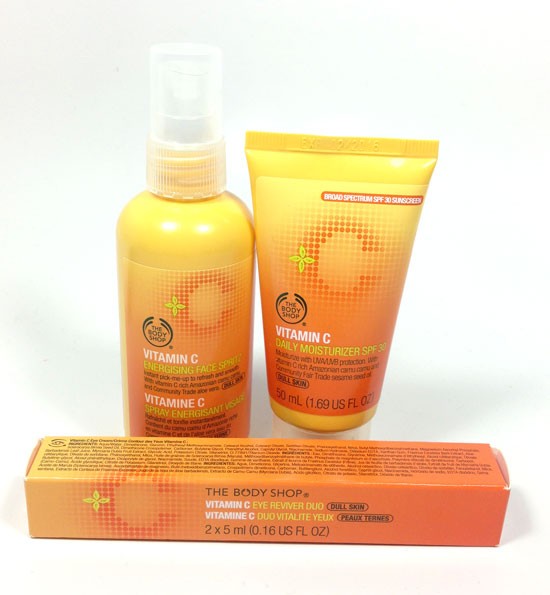 It seems that everyone loves Vitamin C. It's a skin-friendly antioxidant and the superstar of many anti-aging skincare formulas. I am one of the few people who can't use Vitamin C because it makes my skin freak out. I know, I know, I'm a weirdo. I'm jealous of you Vitamin C groupies. I feel like the odd-man out – standing against the wall at the party because I don't know how to dance.
ANYWHO! I know most people love Vitamin C, including my boyfriend, Gregg, so I had him test out The Body Shop's Vitamin C products for me. He loves the Vitamin C Energizing Face Spritz. He loves the fresh citrus scent, and the ease of getting camu camu berry (which has one of the highest concentrations of Vit C in the world) and aloe vera onto his face with minimal effort. What is it with guys and face spritzers? They love them! I'm going to start a line of skin care for men that consists of nothing but facial spritzers! Okay, not really. Feel free to steal my idea. But you owe me a drink.
Gregg loves the Vitamin C Daily Moisturizer SPF 30 because it means he doesn't have to apply sunscreen separately from moisturizer. He's always buying those drugstore sunscreens that clog pores (and usually aren't cruelty free), so I'm happy he's now addicted to this one! It's got a mega dose of Vitamin C (from camu camu) and broad-spectrum UVA and UVB sun protection.
Last but not least is the Vitamin C Eye Reviver Duo. It looks like this product may have been discontinued, but if you find it in stores, it's pretty sweet. The Revive Gel rollerball stimulates and refreshes the eye area. Open the other side to apply the Eye Radiance cream, which hydrates and revives delicate skin while providing UVA/UVB sunscreen protection.
My Beauty Bunny does not accept compensation for any product reviews; Press samples have been provided for this purpose. Opinions are the author's own. Article may contain affiliate links.