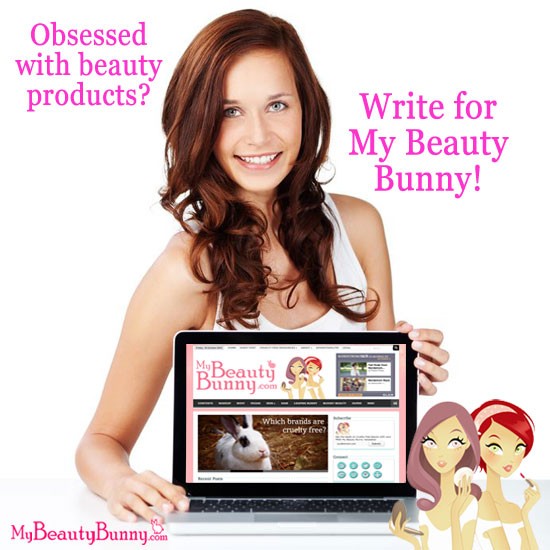 My Beauty Bunny is looking for new staff writers! We are looking for a wide range of ages, skin tones, skin types, ethnicities, guys/gals, etc. You don't have to live in the Los Angeles area, but there are some requirements – read on to find out more!
What you get:
A free monthly box of cruelty free goodies to test
Authorship and bio on the about us page and each post
Backlinks to your blog or website
What we need from you:
Write 4 reviews per month (300-500 words each)  for the My Beauty Bunny site. Your column will include a credit and blurb with links to your blog (if you have one). Two posts will be required by the 15th of each month and 2 will be required by the 30th.
Take photos of each product. If the products are color cosmetics or nail polishes, we will need photos of the products AND swatches and/or pics of you wearing the products. If the products are skin or hair care, we'll just need photos of the products themselves.
Be active in the My Beauty Bunny community. No product to review on any given day? Pop in and say hi and show your fellow writers some support. We're looking for someone who can give us a few minutes of their day, every day. Leave a comment, stumble a post, share on Twitter, Facebook, Instagram, etc.
Ready to apply? Hold on a moment! Do you have what it takes? The ideal My Beauty Bunny staff writer is…
Honest – first and foremost, we need our testers to be truthful about their product findings.
Reliable – very simple, disappear and so will your fabulous deliveries.
A writer at heart – if you like to write, it usually shows.
Knowledge of the cruelty free world – you don't have to purchase exclusively cruelty free brands in your personal life, but you should have a GENERAL idea of which brands are cruelty free and which aren't. You can always check the cruelty free list if you are unsure.
US only for now please – shipping is too expensive outside of the country
Sound good? Here's how you apply:
Email us with the Subject: MBB Product Tester Application.
In a few sentences, let us know what what you think you can add to the My Beauty Bunny site. Name 3 of your favorite cruelty free brands.
Then include an approximately 100-300 word review (of any product) for the My Beauty Bunny site (we will not publish any application), so we can get an idea of your writing style. OR link to 2-3 articles you have written on your blog or another website.
Photography skills are important - please include ONE jpeg example of a product shot and ONE photo of a swatch or close up of your face with makeup.
If you have a blog (or contribute to one) please include the name and URL.
Let us know your skin type (dry, oily, combination) and what ingredient allergies you have, if any. Not necessary, but if you're a pro at doing your own nails, let us know that too.
We'll be accepting entries until October 30th. We'll email you if you're chosen and expect a review box soon after that!
My Beauty Bunny does not accept compensation for any product reviews; Press samples have been provided for this purpose. Opinions are the author's own. Article may contain affiliate links.